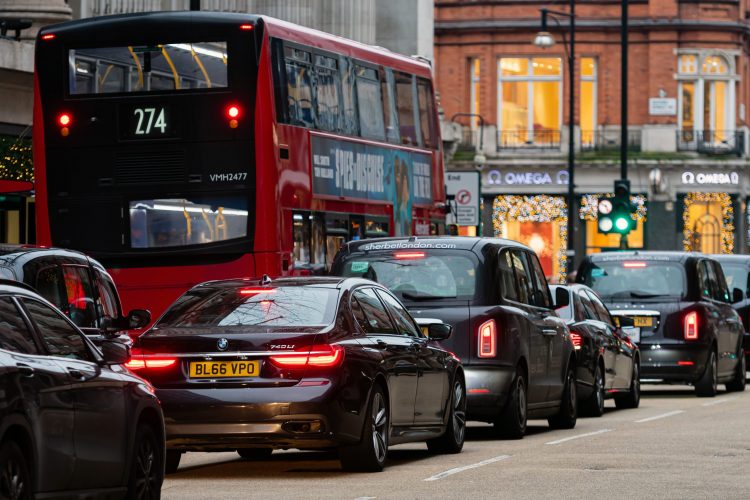 Mayor of London reveals cost of congestion as car use remains high
Despite efforts to encourage the use of active travel and public transport, the Mayor of London has revealed that congestion in the capital is costing the economy £5.1 billion a year.

The cost of traffic congestion to the capital has been revealed by the Mayor of London, Sadiq Khan, as he warns the public of the need to increase efforts to deliver a green, sustainable recovery from the pandemic in order to prevent London from moving from one public health and economy crisis to another.

Although more than a third of car trips made by Londoners could be walked in under 25 minutes and two thirds could be cycled in under 20 minutes, statistics show that traffic on London's roads costs the economy £5.1 billion a year, which equates to £1,211 per driver. While car use remained high, trips by public transport in 2020 dropped by 14 per cent compared to 2019, offsetting a substantial increase of nine per cent witnessed in the share of trips made by walking or cycling in 2020.

Encouraging active travel
Throughout the pandemic, the Mayor and Transport for London (TfL) have implemented measures which have aided significant progress in active travel, working closely with boroughs to transform roads and ensure that there is enough space for people to walk and cycle safely. These measures are playing a vital role in reducing congestion by enabling people to travel while taking up less road space, including walking, cycling and public transport.

More than 120km of cycle routes and tens of thousands of square metres of extra pavement space have been delivered. Cycling during the pandemic increased by 22 per cent in outer London compared to spring 2019, with a seven per cent rise in inner London. Participation has also broadened, particularly among people from ethnic minority communities.

Early signs of a car-led recovery
Furthermore, public transport ridership increased by 95 per cent and is currently still significantly behind pre-pandemic levels, with buses at 70 per cent of normal demand and Tubes at 55 per cent. Car use has been more resilient than public transport and has been the fastest mode of transport to recover to near-normal levels of use after each lockdown, with data showing that it has been close in reaching pre-pandemic levels for much of the latter half of 2021.

Additionally, data from external providers shows that, as the number of vehicle miles increased, so has the time lost by drivers due to traffic. TomTom data shows that, in 2017, an average of 144 hours per year, per driver, were spent sitting in traffic – amounting to almost 20 minutes extra for a 30-minute trip during the evening rush hour. In 2018, this increased to 147 hours and, in 2019, to 149 hours per year. This equates to six days and five hours in total for an average London driver. In 2020, despite traffic reducing, Londoners still spent an extra 15 minutes per 30-minute trip driving because of congestion.

As well as the financial implications, this has also caused significant health impacts, including increased risk of respiratory diseases, and children growing up with stunted lungs. Pollution leads to 4,000 Londoners dying early each year, all of which increases the economic and resource burden on the health service.
www.intelligenttransport.com