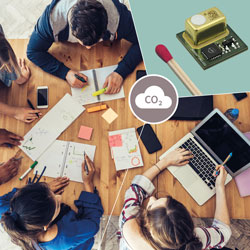 New CO2 sensors provide innovative solutions for accurate indoor air quality
Infineon Technologies now offer an innovative CO2 sensor that may be employed to monitor indoor air quality and decrease energy costs. Suitable applications include ventilation, air conditioning systems, portable room air monitoring devices and smart speakers.


"Demand for good air quality is growing. Not only because of legislative regulations but due to the growing awareness for this issue among the population. With its new CO2 sensor, Infineon provides a top solution with outstanding performance that is smaller and easier to integrate than other products currently on the market," said Andreas Urschitz, president of the Power and Sensor Systems Division at Infineon. "This sensor will be used wherever there are people gathering in one space, such as classrooms, offices, restaurants and in the home."


Through its use in air conditioning systems or air quality monitors, the new sensor enables targeted air quality control. This method contributes to health and well-being and also enhances productivity. According to scientific findings, a CO2 concentration of only 1,000ppm can cause drowsiness and affect concentration.


The sensors can also save energy with reliable data on the CO2 concentration to control the ventilation time in classrooms, offices, restaurants and the home. This lowers the operating costs for ventilation systems when they are employed in an on-demand manner, utilising the sensor data.


One of the first applications on the market will be the portable CO2 sensor co2go created by eesy-innovation in partnership with Infineon. The device may be linked to a smartphone or laptop. The device will offer detailed, reliable information about the air quality in a room at different locations. It can assist in making a notable contribution to the user's health and well-being.


The XENSIV PAS CO2 sensor is based on the innovative PAS technology. The method allows highly efficient measurement with a minimal footprint. The sensor is smaller than a quarter of the size of conventional CO2 NDIR sensors and the only sensor this size that satisfies the title 24 requirements in California. The company has an extensive patent portfolio in disruptive PAS technology and a leading position in MEMS technology.
www.electropages.com