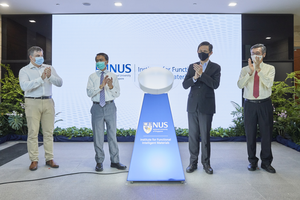 NUS launches Revolutionary Materials Science Research Centre
The National University of Singapore (NUS) has launched the Institute for Functional Intelligent Materials (I-FIM) – the world's first institute dedicated to the design, synthesis, and application of Functional Intelligent Materials (FIMs). Co-directed by Nobel-Prize-winning materials scientist Professor Sir Konstantin Novoselov and Distinguished Professor Antonio Castro Neto, I-FIM will be the sixth research centre of excellence (RCE) in Singapore, and the fourth RCE hosted at NUS.

Most materials have fixed properties. For example, steel has a fixed strength, shape, and conductivity regardless of the environment it is in. However, emergent technologies need materials that can adapt, have memory functions, and have properties which change depending on the environment. These are FIMs, and they are crucial for artificial organs and tissues, smart membranes, smart batteries and catalysts, to name just a few.

"Currently, materials scientists can only describe the properties of materials when they are in energetic equilibrium. To describe dynamic, out-of-equilibrium properties of functional intelligent materials requires new approaches in physics, chemistry, biology, materials science, and engineering. That is the goal of I-FIM," said Prof Sir Novoselov.

A world-class research institute

I-FIM is supported with a total investment of S$200 million over 10 years, with the Singapore Ministry of Education providing a funding of S$100 million and a matching contribution of an equivalent of S$100 million from NUS.

"RCEs are established with the mission to spur research excellence in our Autonomous Universities (AUs), create new knowledge and catalyse future innovations and discoveries that would contribute to positive economic and societal outcomes for Singapore. The first five RCEs have boosted Singapore's research eco-system, and their outstanding research has helped Singapore to manage complex challenges, such as COVID-19. We look forward to I-FIM playing a significant role in our research landscape and becoming a globally-renowned institute that will attract, retain and support world-class academic investigators, enhance graduate education in NUS, and create new important knowledge in materials science," said Minister for Education, Mr Chan Chun Sing.
www.eurekalert.org