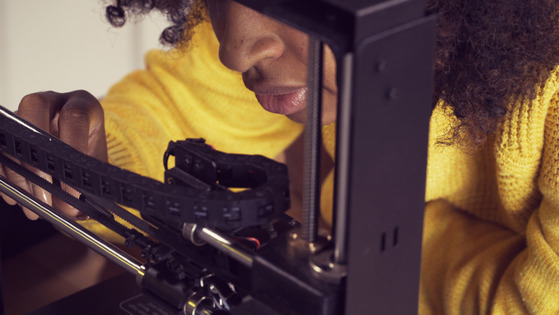 4D Printing Adds a New Dimension in Additive Manufacturing
Named after the space-time dimension recognized by physicists, 4D printing is the process of creating 3D objects that can be manipulated over time.

4D printing is similar to 3D printing in that, based on a digital design, a series of individual, 2D layers are created to eventually form a 3D object; the difference is that 4D printing uses a specific material that can be programmed to react to various stimuli in certain ways.

As a result, 4D printed items can change their shape over time as their environment changes — such as with fluctuations in temperature or exposure to water or light — while 3D-printed objects remain fixed.

How Does 4D Printing Work?
4D printing still relies on commercial 3D printers for the process. But, rather than using standard filament for 3D printers, 4D printing requires a smart material designed to react to stimuli — such as hydrogels, shape memory polymers (SMPs), or cellulose composites — to program and give the final object the properties it needs to shape-shift.

The 4D printing process starts with the engineer designing an object in a program, similar to 3D printing. However, rather than only manipulating the X, Y, and Z-axes, there is also the option to add variations in the object's material structure — this is the geometric code that affects the final object's ability to react to different stimuli.

What is 4D Printing Used for?
The advantages that 4D printing provides make the process suitable for many industries and applications that already benefit from traditional 3D printing. One of its most practical uses is creating large objects as one whole part rather than individual, smaller pieces. This is thanks to computational folding.

Additionally, smart materials such as SMPs can be used to print tailorable shapes — an important property needed for healthcare applications such as creating skin grafts or implant development.

Are 4D Printers Available to Purchase?
4D printing is a relatively new concept, so it's no surprise there are no prototypes available for the general public to purchase. Only a select few companies, organizations, universities, and research labs currently have access to 4D printing technology, including:

Harvard's Wyss Institute for Biologically Inspired Engineering
MIT's Self-Assembly Lab
The University of Wollongong
Singapore University of Technology and Design
Stratasys
Autodesk
The Future of 4D Printing
Although 4D printing is not quite yet in the hands of consumers, at its current rate of research and development, it is likely that you'll at least come across several products produced by the technology in the near future.

After all, it was only less than a decade ago when MIT assistant professor Skylar Tibbits introduced the concept of 4D printing during a TED conference. Since then, researchers have used the principles behind 4D printing and self-assembly to manufacture products that have already started to change the world we live in, from smart textiles to self-assembling mobile phones.

Now that researchers have discovered the right materials that make printing transformative objects possible, the next step is to focus on printing shapes that can support themselves. If successful, 4D printing could then be used to create building materials that can adapt to better handle varying loads or even automotive parts that adjust according to the weather. With 4D printing, the possibilities are endless.
www.thomasnet.com