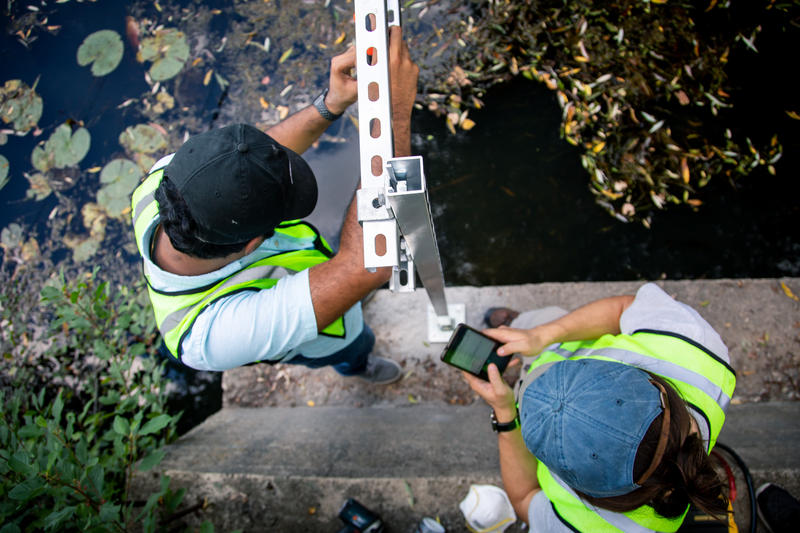 Reduce flooding from backed up sewers? There's an app for that
In areas where floods were once rare, now some neighborhoods are flooding repeatedly. Stormwater sewers are being overwhelmed by more intense storms.

Most of the solutions call for big pipes and expensive construction.

A group of researchers is instead helping cities use their current systems better.

There's an app for that.

The idea behind the research is fairly simple. Even when there's a lot of rain, there are parts of a combined stormwater and sanitary sewer system that aren't full. There is storage capacity. The problem is you have to know where.

The answer is going to be different for every system.

"Some places are dealing with very sort of large scale flooding, while others are dealing with water quality impairments. Here in the Great Lakes region, we have a confluence of those," said Branko Kerkez, an Associate Professor leading a group of Ph.D. students from the University of Michigan's College Civil and Environmental Engineering.

You've heard of self-driving cars. They are engineering self-operating sewer systems.

Kerkez says a rainstorm doesn't hit a city the same way everywhere at the same time.

"So a good example is it's raining a lot on one part of town, it's not raining that much in another part of town, so you might have storage assets that are not full all the time," Kerkez explained.

He and his team have been experimenting with cheap monitors that are hooked to the internet. By looking at a computer screen or even a phone, sewer system operators can see what's going on.

"What are the conditions? Do I have extra storage over here? Can I close that valve to allow another part of the system to drain out? Just like a car that self-driving steers itself. Given changing conditions, water systems in the future may be able to control themselves dynamically in response to these inputs," Kerkez said.
www.wvpe.org